219 Safety Ave
Andrews, SC 29510
United States

P: (888) 878-1839
F: (843) 264-8584

---
About ErectaStep
ErectaStep's Prefabricated Metal Stair
All aluminum stair and metal work platform components are in-stock and ready to ship today!
ErectaStep's experience building
metal stairs
and
metal work platforms
goes back over 20 years. We're leading the industry when it comes prefabricated metal stair kits as well as custom stair solutions that bolt together on location with no custom tools or equipment.
---
Improve safety and productivity with ErectaStep's OSHA & IBC compliant metal stairs, YellowGate's safety gates and Rollastep's rolling stairs & mobile platforms. Save time, money and eliminate custom fabrication with ready to ship metal stairs, metal work platforms, crossover stairs, and portable stairs.
Visit the ErectaStep website or call (888) 878-1839.
---
New 2017 - ErectaStep Expands Facility and Product Line of Metal Stairs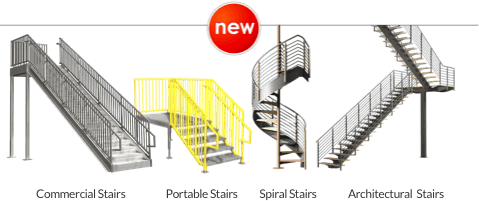 ErectaStep is to begin production of four new products. The first is an all steel, bolt-together
Commercial Stairs
in three sizes; 8ft, 10ft & 12ft. As well as two designer inspired Architectural Stair kits, a Spiral Stair kit and a sleek Mono Stringer series. All are IBC as well as OSHA compliant, and constructed of heavy duty powder coated steel. Specifically designed to be configured, ordered and installed either interior or exterior, by anyone – even a do-it-your selfer. "We're excited, and very proud of these new products… we see a tremendous need in the commercial and architectural marketplace for more easy-to-install, high quality stair kits that use the same hi-tech manufacturing techniques as our Industrial series." says co-founder, Rob Honeycutt. Rounding out the new group of products, ErectaStep will now offer a
Portable metal stairs
, a more cost effective solution, to be offered alongside their flagship Industrial Series with it's modular, five components that combine to create an unlimited number of configurations. The new Portable Series, will be feature adjustable and has telescopic legs that allows the unit to be installed and leveled easily at any location by enabling it to conform to specific ground contours. Perfect for low cost entrance steps for job trailers or temporary offices.
Product Categories (3)
FACILITIES EQUIPMENT, SYSTEMS, SUPPLIES & SERVICES > Engineering, Construction, Turnkey Projects
MACHINERY SYSTEMS AND COMPONENTS > Safety Components – Hydraulic
SUPPLY CHAIN / MATERIAL HANDLING SYSTEMS AND SERVICES > Racks / Storage Equipment / Systems